Help Us Build the Future!
At WildCare we are making a real difference.
Not only have we helped thousands of wild animals recover from life-threatening injuries — thanks to a very passionate team of employees and volunteers who care for these creatures around the clock — we've also helped foster a truly transformative community that values nature and works hard to protect our shared environment.
But today we are at a crossroads.
Our aging facility can no longer keep pace with the momentum we've built, and we need
your help. Please join us in building a new home for WildCare — a place where our mission of living well with wildlife can flourish, both now and into the future.
We've raised over $7.2 million toward our $12 million goal, but our fundraising efforts continue! Watch the video below for a behind-the-scenes look at WildCare's current facility in San Rafael, California to better understand why we are so excited about our future new site, and meet some amazing wildlife patients too! Then help us reach our goal with a donation toward WildCare's future!
Our Future New Home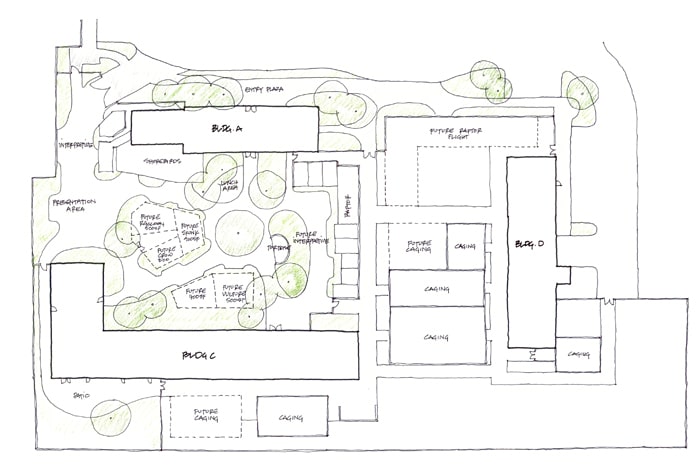 Located at 301 Smith Ranch Road in San Rafael, our new location will
spread across nearly five acres, with views of the wetlands and distant hills. It will offer extensive space to expand our programs by repurposing existing buildings already on the site.
Our commitment to sustainable re-use of these existing buildings will incorporate features such as solar panels, reclaimed water for landscaping and other uses, pervious paving, native landscaping and energy-efficient systems into our plans.Our new site will provide important treatment and rehabilitation areas for our wildlife patients that will allow us to both increases the number of animals we care for onsite and improve the quality of their care.
The new Wildlife Hospital will include additional exam rooms, animal wards, and the latest treatment equipment, and our recovering patients will have larger, quieter and better enclosures in which to heal and recover.
The open and inviting expanse of the new property will allow WildCare to expand our educational programs as well.
Our new Terwilliger Discovery Center will teach visitors about wildlife and the environment with hands-on, interactive displays and activities.
Our new Wildlife Ambassador courtyard will offer much larger enclosures, naturalized settings and room for additional non-releasable former wildlife patients to provide "nose-to-beak" encounters with visitors.
Our educational programs will benefit from our new location, which is a short walk from the Las Gallinas ponds.  Students will enjoy new camp opportunities as well as the benefits of our new Terwilliger Discovery Center.
WildCare's Terwilliger Courtyard has become a Marin hotspot where people experience amazing encounters with some of California's fascinating wildlife.
We look forward to sharing with you the exciting opportunities this incredible project will make possible.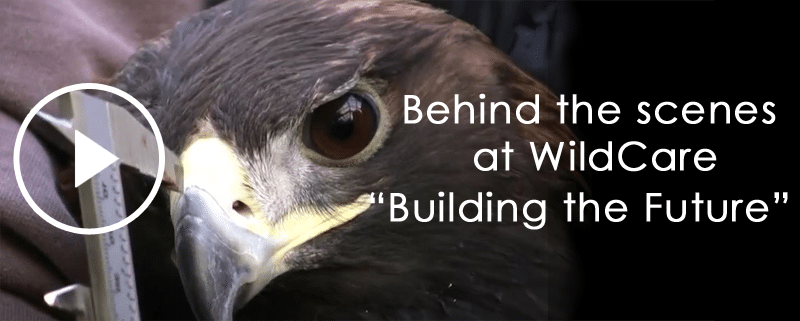 Under the terms of the challenge from the San Francisco-based Bently Foundation, WildCare was required to raise at least $2 million in new gifts and pledges for the capital campaign by December 31, 2015 in order to receive a $1 million grant from the Bently Foundation.
WildCare is pleased to announce that we have met the $2 million challenge put forth by the Bently Foundation in April of 2015 help us fund the organization's expansion to our future home at Silveira Ranch near McInnis Park! Click to learn more…
Ways to Contribute
Outright gifts of cash, pledges (may be paid over a muti-year period), transfers of gifts of appreciated stock, foundation and corporate grants, bequest and other legacy gifts are all ways you can help build the future of WildCare and transform how we live with wildlife.
Click here to make a donation now toward WildCare's future or, for more information, or to make a gift, please contact Ellyn Weisel at 415-453-1000 or ellyn@discoverwildcare.org.
Gift Acknowledgement Opportunities
Naming opportunities in the range of $25,000 to $2 million.
Recognition $250 to $10,000 available.
Please contact Ellyn Weisel at 415-453-1000 or ellyn@discoverwildcare.org.