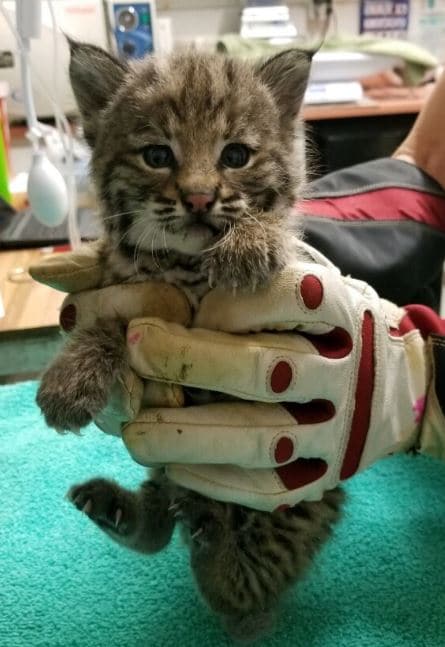 These two Bobcat kittens were admitted to WildCare late last summer.
The first kitten was found by homeowners trimming ivy behind their garage. Recognizing immediately that this wasn't a domestic kitten, the rescuers brought the striped baby to WildCare.
Upon intake in the Wildlife Hospital, the kitten was found to be mildly dehydrated with a normal external parasite load of fleas and ticks.
Medical Staff worked with the rescuers for the next two days in attempts to find the den site to reunite the kitten with her mother. Unfortunately we were unable to locate a den, and a reunite attempt using a secure, heated kennel and recorded kitten distress calls didn't succeed.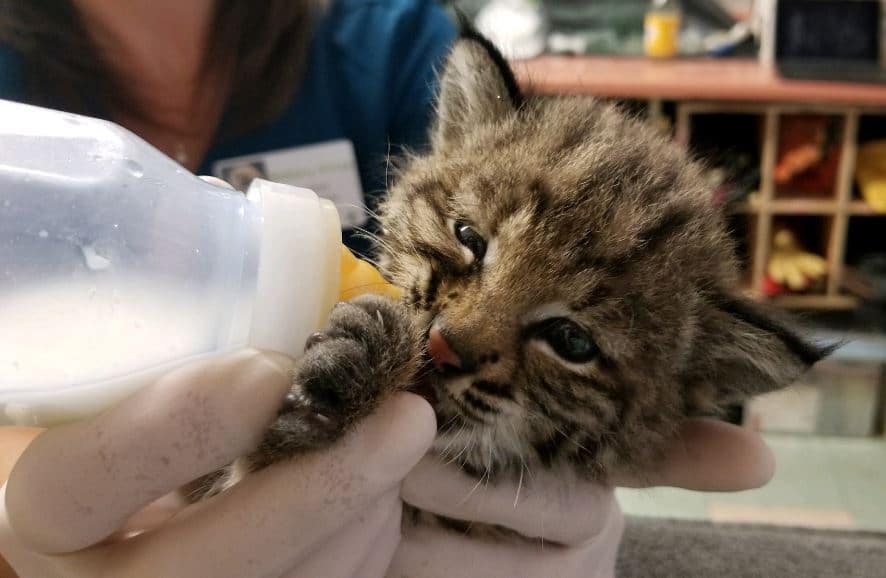 Because Bobcat kittens can imprint on humans very quickly (which would render them nonreleasable), it was imperative that we find a companion Bobcat with whom this kitten could be raised as soon as possible. Thankfully, our friends at the Wildlife Center of Silicon Valley (WCSV) have a very large, specialized set-up for raising Bobcats, and they had other kittens in care, so they agreed to take ours. One of our volunteer transport drivers drove the kitten to their center immediately.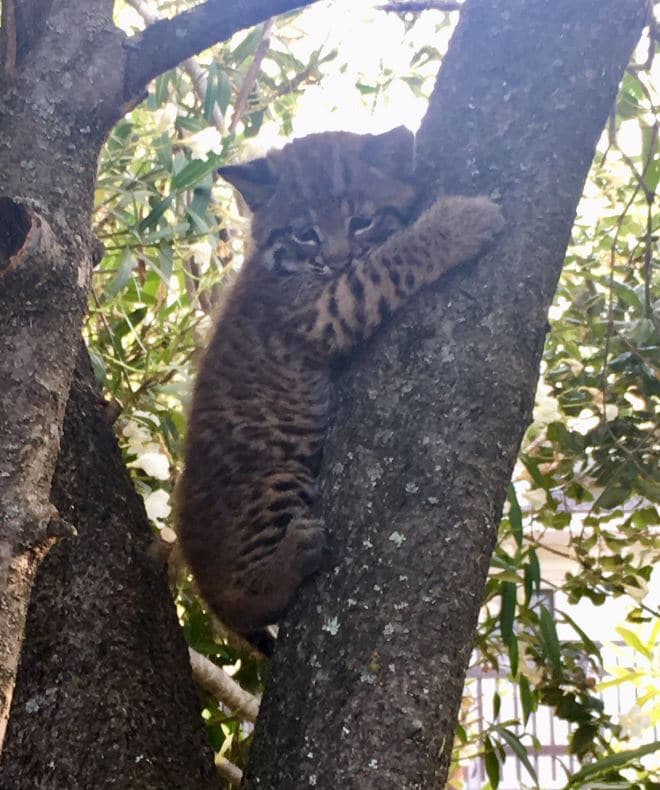 Imagine our surprise when, a week later, another Bobcat kitten appeared in a tree in a neighbor's yard!
Rescuer Jennifer was working in her home office when she heard the distressed calls coming from her front yard. She remembered the heartbreaking sounds the kitten rescued by her neighbors had made, and when she heard the same sound in her front yard, she knew that here was another baby Bobcat in distress. Jennifer ran outside to find the young male kitten clinging to a tree beside her driveway.
Donning heavy leather work gloves, Jennifer's husband Todd slowly approached the clinging kitten. He distracted the cat with one hand and grabbed his scruff with the other. The kitten released his hold and Todd and Jennifer were able to place him safely in their cat carrier. They then called Marin Humane for an officer to transport the kitten to WildCare.
This kitten was in worse shape, thinner and more dehydrated than his sister, presumably after surviving a week on his own. Knowing that our reunite attempts had failed with his sister, and given this kitten's body condition, it was clear that something had happened to these young Bobcats' mother and/or their den site. Again we called WCSV and they graciously agreed to take this kitten as well.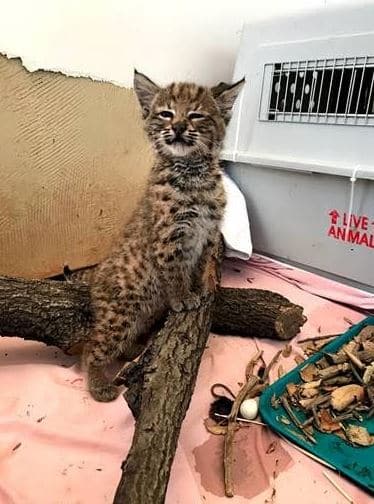 WildCare's Bobcats were in care at WCSV for more than eight months. WildCare funded their food and care while they learned to climb and hunt and develop the skills necessary for survival in the wild.
Once they were ready, a volunteer from WCSV drove the now large and healthy cats back up to Marin. We found the perfect release location near where the kittens had been found (but away from inhabited areas) and gathered together a group of supporters to celebrate setting these young cats free.
How thrilled we were to see them plump and healthy and EXTREMELY wild! These cats had gone from small scruffy kittens to gloriously sleek and healthy cats in the months they'd been in care, and they clearly were ready to return to the wild.
Special thanks to Marcie and Bobby Phares and Sue and Ella Decker for being part of the release and for their generous support of these cats and WildCare's work!
See more photos of these cats' release below!
Photos by Sue Decker, Ella Decker, Marcie Phares, Bobby Phares and Alison Hermance

This entry was posted in