Rescuer Matt took this video of the fox kit on his family's swim mat as they waited for transportation to WildCare.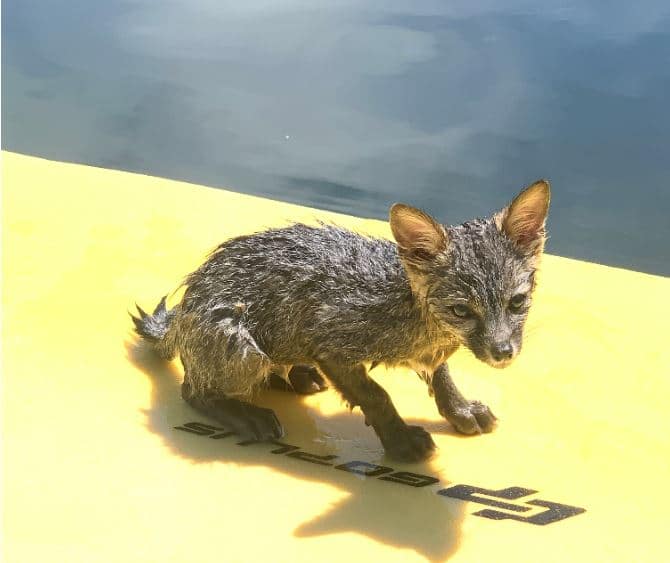 The weeks-old Gray Fox kit was probably playing with siblings near their den when he took a frightening tumble into a man-made lagoon in Stinson Beach, California.
The baby couldn't scale the steep concrete walls, so escape was impossible.
He must have been paddling and trying to get out of the water for a while, and with each passing minute, he got colder and weaker.
Fortunately one of the homes encircling the lagoon had a floating swim mat tethered to the dock.
The baby fox pulled himself onto the mat and crouched, shivering, bedraggled and listless.
The homeowner Matt was outside in his yard when he glanced down at the water and happened to see the small, furry body collapsed on his swim mat.
The little fox did his best to hide under the dock when he became aware of Matt's presence, but he couldn't get very far under the dock and his shivering rear end and soaking wet tail were still visible. Matt was able to nudge him back out into the sunlight, which helped to warm the little animal while Matt called Marin Humane for help to transport the fox to WildCare's Wildlife Hospital.
This video shows the fox kit's intake exam. He's chilled and exhausted but otherwise healthy!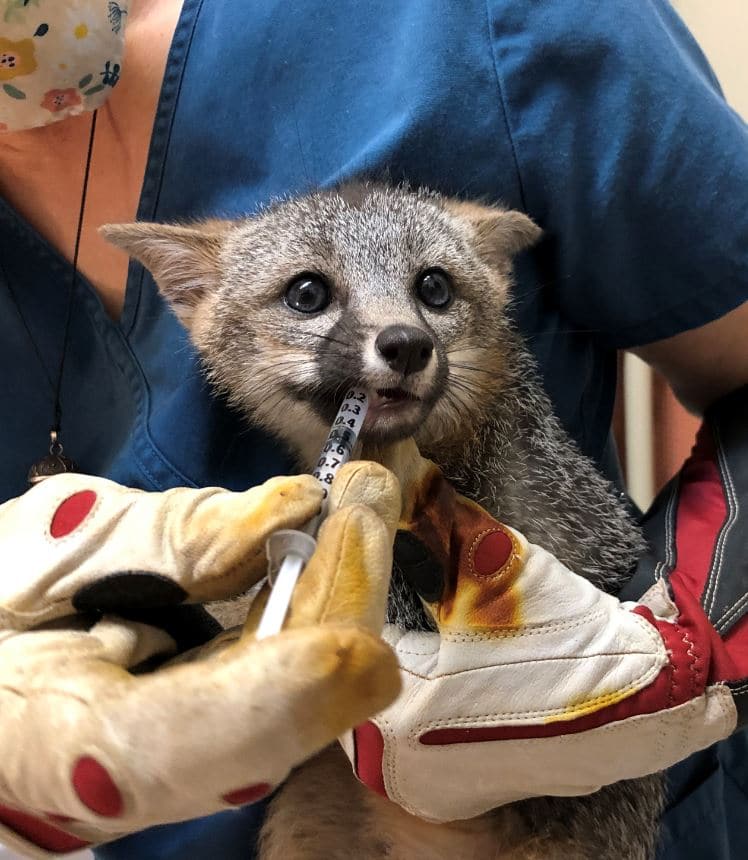 Once he was at WildCare, our Medical Staff was very pleased to see that this little fox seemed to be already recovering from his cold and wet ordeal!

A weight check confirmed that his separation from his family was recent (his weight was good), and an exam confirmed that he had no injuries. They put him on a course of antibiotics to counteract pneumonia after his long and exhausting swim, and placed him in a warm kennel for the night.

The next day showed even more improvement, and the kit even growled at Med Staff when they came to feed him! Unfortunately we have no idea where his den is in the area surrounding the lagoon, so we are not able to reunite him with his family.

After remaining in care at WildCare for several days to complete his course of antibiotics and confirm he is now healthy, we transferred him to our sister center, Sonoma County Wildlife Rescue, where he will grow up with other Gray Foxes until he's ready to return to the wild.

This entry was posted in