Join us for WildCare's 35th Annual Dining for Wildlife Event
on Tuesday, May 5 and Wednesday, May 6, 2020!
Covid-19 update: WildCare is going forward with our Dining for Wildlife event, and we anticipate that it will occur as scheduled. The event had been scheduled, restaurants had been recruited, and invitations had been printed when the Bay Area wide shelter in place order was mandated.
If we are not able to hold the event as planned, we will consider the possibility of take-out options – "Dine In for Wildlife" – restaurant gift certificates, or we will be happy to offer to refund payments. We truly appreciate your support during these difficult and ever-changing times!
Popular restaurants fill quickly – click to request your reservation now. We will email you to confirm availability.
Please do not contact restaurants directly – all reservations are made through WildCare!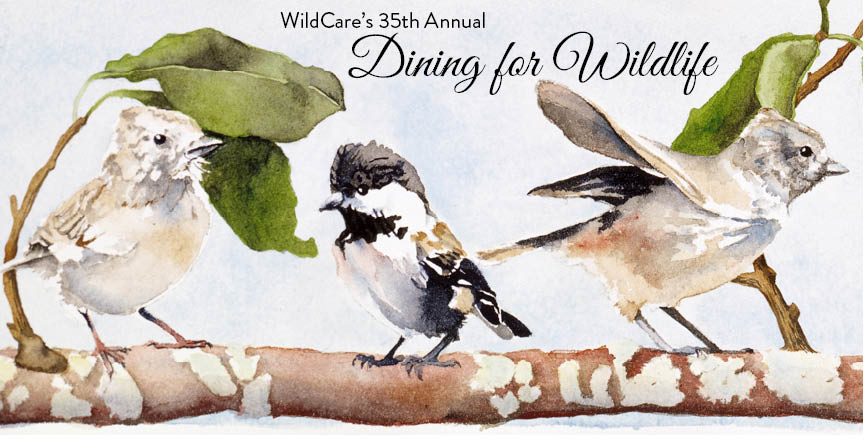 Enjoy a WONDERFUL meal at a GREAT restaurant, and SUPPORT our wildlife and education programs!
Dining for Wildlife is WildCare's longest running event… our 2020 event will be our 35th year!
This fun event offers WildCare supporters the chance to dine out at amazing local restaurants while raising much-needed funds for our Wildlife Hospital and Environmental Education programs.
Dining for Wildlife 2020 will take place on Tuesday, May 5 and Wednesday, May 6, and reservations for participating restaurants (made through WildCare) are available starting March 19.
Each dinner includes an appetizer, a main course, dessert and a glass of wine or beer. Gratuity is not included.
WildCare's 2020 Dining for Wildlife Restaurant Roster
Thank you to these wonderful restaurants for participating in our event!
Reservations are made through WildCare. Please do not contact restaurants directly.
Click here to submit a restaurant request.
Prices are per person and do not include gratuity.
Greenbrae
Jason's Restaurant, $75
Larkspur
Don Antonio Trattoria Larkspur, $65
Farmshop, $85
The Melting Pot of Larkspur, $65
Roma Antica, $65
Mill Valley
Vasco, $65
Novato
Hilltop 1892, $75
Rickey's, $65
Oakland
Millennium, $75
Point Reyes Station
Side Street Kitchen, $65
Station House Café, $65 (Tuesday only)
Ross
Marche aux Fleurs, $85
San Anselmo
Cucina SA, $75
Insalata's, $75
Valenti & Co. Ristorante & Vinobar, $85, Sold out Wednesday!
San Francisco
Rocco's Cafe, $65
Wildseed, $55

San Rafael
Cafe Arrivederci, $65
Il Davide Cucina Italiana, $75
The Kitchen Table, $65 – Sold out Tuesday!
Le Comptoir, $85 (Tuesday only)
Revel & Roost, $65
Vin Antico, $65
Santa Rosa
Bistro 29, $65 (Tuesday only)
Sausalito
Fish. Restaurant, $65
Murray Circle, $85
Poggio Trattoria, $85
Saylor's Restaurant and Bar, $55 (Wednesday only)
Tiburon
Don Antonio Trattoria Tiburon, $65
Visit our participating restaurants online
Santa Rosa
San Rafael
San Anselmo
Larkspur
.
Tiburon
Larkspur
Sausalito
Novato
San Rafael
San Anselmo
Greenbrae
San Rafael
San Rafael
Ross
Larkspur
Oakland
Sausalito
Sausalito
Revel and Roost
Rickey's
Rocco's Cafe
Roma Antica
Sausalito
Side Street Kitchen
Station House Cafe
San Anselmo
Mill Valley
San Rafael

San Francisco
Thank you to our incredibly generous sponsors!

Maureen Groper

Juliana & Alan Kaye
Susanne & Jeffrey Lyons
Saga Lempio Perry
Jack & Ingrid Peterson

Lorraine Voskanian
Anonymous

Janis M. Bosenko
Bill and Susan Beech
Fairfax Veterinary Clinic
Veronica Geczi and Mark Cavage
Margareta Luff

Martz Accountancy Corporation
Carol and Don Neel
Susan C. Peters
Piatek and Associates Environmental Consultants
Jeff Pierce
Magda Sarkissian

Jill and Richard Sideman
Kate Van Gytenbeek and Randall Bryett
Brett & Ellyn Weisel
Become a Dining for Wildlife Sponsor!
To become a sponsor please contact Marian at 415-453-1000 x11 or marian@discoverwildcare.org
– Sponsorship Levels:
$1,000 – Platinum

| | |
| --- | --- |
| – | Four complimentary dinners |
| – | Acknowledgement in day-of-event restaurant menus and in other print and online collateral |
| – | Acknowledgement on website |
| | |
| | |
| | |

$750

–

Three complimentary dinners

–

Acknowledgement in day-of-event restaurant menus and in other print and




online collateral

–

Acknowledgement on website

$500

| | |
| --- | --- |
| – | Two complimentary dinners |
| – | Acknowledgement in day-of-event restaurant menus and in other print and online collateral |
| – | Acknowledgement on website |
| | |

$250

| | |
| --- | --- |
| – | Acknowledgement in day-of-Event restaurant menus and in other print and online collateral |
| – | Acknowledgement on website |

$100

| | |
| --- | --- |
| – | Acknowledgement in day-of-event restaurant menus |
| – | Acknowledgement on website |


$50

| | |
| --- | --- |
| – | Acknowledgement on website |