WildCare's 33rd Annual Dining for Wildlife Event
Reservations are NOW OPEN! Click to request your reservation now!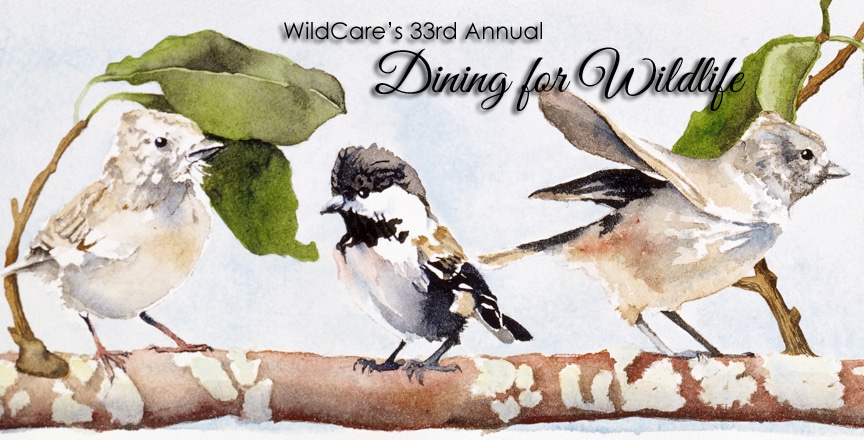 Enjoy a WONDERFUL meal at a GREAT restaurant, and SUPPORT our wildlife and education programs!
Dining for Wildlife is WildCare's longest running event… our 2018 event will be our 33rd year!
This fun event offers WildCare supporters the chance to dine out at amazing local restaurants while raising much-needed funds for our Wildlife Hospital, environmental education and other programs.
Dining for Wildlife 2018 will take place on May 15 and 16, 2018, and reservations for participating restaurants (made through WildCare) are available now.
To reserve, either complete our online request form or call Marian at 415-453-1000 x11.
Each dinner includes an appetizer, a main course, dessert and a glass of wine or beer. Gratuity is not included.
WildCare's 2018 Dining for Wildlife Restaurant Roster
Thank you to these wonderful restaurants for participating in our event!
Reservations are made through WildCare. Please do not contact restaurants directly.
Prices are per person and do not include gratuity.
Greenbrae
Jason's Restaurant, $75 — Sold out Tuesday!
Lafayette
The Cooperage, $55 — Sold out Tuesday!
Larkspur
Don Antonio Trattoria Larkspur, $55
Farmshop, $85, Sold out both nights!
Gia Ristorante Italiano, $75 — Sold out both nights!
The Melting Pot Larkspur, $65
Mill Valley
Frantoio Ristorante, $65
Vasco, $55 — Sold out Tuesday, two seats left Wednesday!
Novato
Hilltop 1892, $65
Rickey's Restaurant, $55
Oakland
Millennium, $75

Pt. Reyes Station
Station House Cafe, $55 (Tuesday only)
Ross
Marché Aux Fleurs, $85 –Sold out both nights!

San Anselmo
Insalata's, $75 — Sold out both nights!
Valenti & Co. Ristorante and Vinobar, $85 — Sold out both nights!
San Rafael
Atalaya, $65 — Sold out Wednesday, two seats left Tuesday!
Cafe Arrivederci, $65
Il Davide Cucina Italiana, $75 — Sold out Wednesday!
Le Comptoir, $85,   (Tuesday only) — Two seats left!
Vin Antico, $65

Santa Rosa
Bistro 29, $65 (Wednesday only)
Sausalito
Barrel House Tavern, $75
Fish. Restaurant, $65
Murray Circle, $85 — Sold out both nights!
Poggio Trattoria, $85 — Sold out both nights!
Saylor's Restaurant and Bar, $55 — Sold out Tuesday!
Tiburon
Don Antonio Trattoria Tiburon, $55
Visit our participating restaurants online

San Rafael

Sausalito

Santa Rosa

San Rafael

Lafayette

Larkspur

Tiburon
Larkspur

Mill Valley

Mill Valley


Larkspur

Novato


San Rafael


San Anselmo

Greenbrae

San Rafael

Ross

Larkspur

Oakland


Sausalito

Sausalito

Sausalito

Pt. Reyes Station

San Anselmo

Mill Valley

San Rafael
Thank you to our incredibly generous sponsors!
Maureen Groper
Juliana & Alan Kaye
Denise & Rob Kline
Angela Luchini & Arthur P. Brazy
Margareta Luff
Susanne & Jeffrey Lyons
Martz Accountancy Corporation
Saga Lempio Perry
Jack & Ingrid Peterson
Rebecca & Terry Smith
Julie Allecta     Janis M. Bosenko
Arthur J. Gallagher & Co. Insurance Brokers
Ann & Michael Bozzuto     Fairfax Veterinary Clinic
Ann M. Henning    Carol & Don Neel
Marcia Rodgers and Garrett Loube
Jill & Richard Sideman    Lorraine Voskanian
Alice Weigel     Brett & Ellyn Weisel
Marian Eschen
Elizabeth & Terry Calaway    James Grant
Shelia Herson     Chick and Gina Kretz
Marcie & Robert Phares     Sandra Swanson
Donald and Dolores Fratus     James Grant
Georgyn Hittelman     Clara Tallerico
Leilani & Iain Wilson
Become a Dining for Wildlife Sponsor!
To become a sponsor please contact Marian at 415-453-1000 x11 or marian@discoverwildcare.org
– Sponsorship Levels:
$1,000 – Platinum

–

Four complimentary dinners

–

Exclusive behind-the-scenes tour of
WildCare for up to (6) guests

–

Acknowledgement in day-of-event restaurant menus and in other print and online collateral

–

Acknowledgement on website

$750

–

Three complimentary dinners

–

Exclusive behind-the-scenes tour of
WildCare for up to four (4) guests

–

Acknowledgement in day-of-event restaurant menus and in other print and
online collateral

–

Acknowledgement on website

$500

–

Two complimentary dinners

–

Exclusive behind-the-scenes tour of
WildCare for up to two (2) guests

–

Acknowledgement in day-of-event restaurant menus and in other print and online collateral

–

Acknowledgement on website

$250

–

Acknowledgement in day-of-Event restaurant
menus and in other print and online collateral

–

Acknowledgement on website

$100

| | |
| --- | --- |
| – | Acknowledgement in day-of-event restaurant menus |
| – | Acknowledgement on website |


$50

| | |
| --- | --- |
| – | Acknowledgement on website |