Our Big Name Reveal was a great success!
WildCare is excited to welcome two new nonreleasable animals to our Courtyard— a beautiful adult American White Pelican and a delightful juvenile Brandt's Cormorant!
These two birds recently transferred to WildCare from International Bird Rescue, where they were determined nonreleasable and eligible to become educational animals.
Meet Our American White Pelican, Marshall, named in loving memory of Joan Coil Carvalho
This handsome white pelican was found trapped under the bumper of a truck! He had multiple broken bones and other injuries, from which he recovered in care with the wonderful staff and volunteers at International Bird Rescue (IBR). It was determined by IBR veterinary staff that Marshall had visual impairment in his left eye and permanent brain trauma that rendered him nonreleaseable. However, his calm temperament makes him a perfect educational animal and we're so happy to welcome him as a permanent resident in WildCare's Courtyard.
Thank you to Glenda Carvalho-Sell for naming Marshall in loving memory of her mother, Joan Coil Carvalho.
Say hello to Farallon, our Brandt's Cormorant!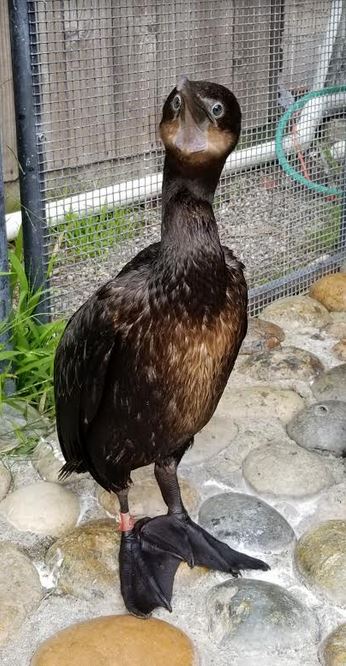 Farallon was found near Monterey. She was unable to fly, and was unresponsive when she was approached by dogs. She obviously needed help.
She was brought to International Bird Rescue, where she was diagnosed with visual impairment and suspected traumatic brain injury that rendered her nonreleasable.
Farallon will live full-time at WildCare as an educational Wildlife Ambassador animal in our Courtyard.
Brandt's Cormorants are found only in marine environments. They nest on cliffs, and they hunt for fish by diving from the surface of the water to chase their prey underwater.
The name Farallon won our online vote with 32% of the votes (Brandi, the second place name, had 29% of the votes.)
Special thanks to Judy Stone who submitted the name Farallon, to everyone else who submitted such excellent name choices, and to all of you who voted in our Cormorant Naming Contest!