WildCare Gifts and Gifts to WildCare
Give the wonderful gift of WildCare and help us save wild lives!
Most WildCare gifts feature REAL patients from our Wildlife Hospital, so they are both unique and adorable! Give great WildCare gifts to everyone on your list… Scroll down to shop!
________________________________________________________________________
Always use smile.amazon.com when shopping to support WildCare at no cost to you!
Click to smile.amazon.com and choose WildCare as your charity! Amazon will donate a percentage of your purchase (any purchase!) to WildCare as a result.
________________________________________________________________________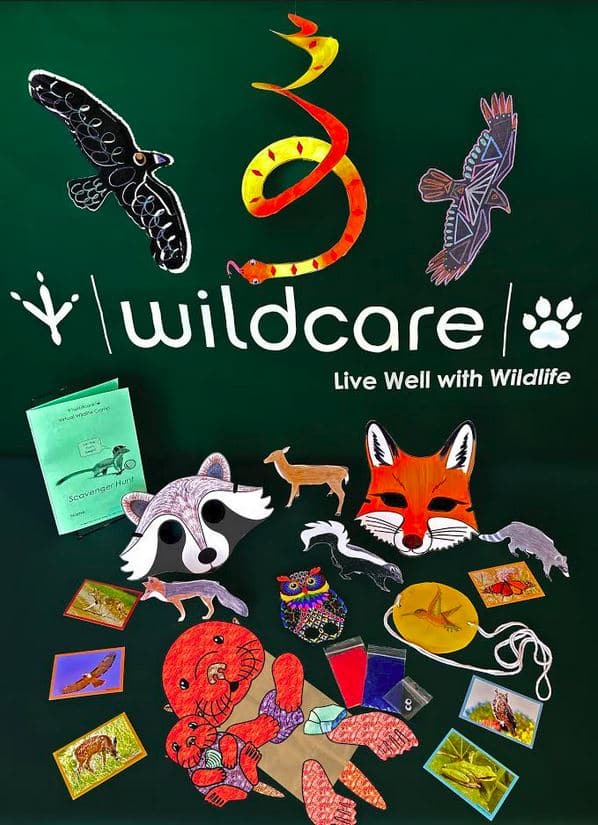 WildCare's Wildlife Craft Kit contains an assortment of delightful, engaging and educational crafts for all ages!
Cost: $30.00 (includes shipping and sales tax)
Shipping is limited to the continental United States and delivery can take 2-3 weeks.
This kit includes the following:
1 fox mask + 2 pipe cleaners (to secure mask on ears)
1 raccoon mask + 2 pipe cleaners (to secure mask on ears)
1 snake mobile + googly eyes +2 different colors of art sand + string
4 three-dimensional woodland critter cut-outs
1 hummingbird spinner + string
1 paper owl finger puppet
1 "birds and windows" template + 2 pieces black contact paper
1 paper bag otter puppet (includes pup)
BONUS: 2 nature scavenger hunt booklets (easy and challenging)
BONUS: 6 California wildlife cards (randomly selected and different from kit to kit)
________________________________________________________________________
Show your love for wildlife and WildCare while keeping yourself and others safe!
Choose from an array of fun WildCare-related designs and wear your WildCare Face Mask with pride.
The $15 price includes tax, and shipping within the continental US is FREE.
Click to buy your WildCare Face Mask now!
________________________________________________________________________
Photographer Mary D'Agostino created the Wildlife Ambassador Photo Project as a way to highlight the beauty of the nonreleaseable wild animals that live full time at WildCare: our Wildlife Ambassadors. She also wanted to put a spotlight on the reasons these animals would not be able to survive in the wild, reinforcing the lessons our Ambassadors teach visitors to WildCare every day. Click to shop prints and purchase framed or unframed now!
WildCare and Mary D'Agostino are offering archival-quality, hand-signed, artist prints of five incredible photos in a variety of sizes, framed or unframed. All proceeds from the sale of these exquisite art pieces will go directly to WildCare!
These striking and unique images make the perfect gift! Order by December 13, 2019 to ensure fulfillment before the holidays. Scroll down for price list.
Unframed prints will be shipped anywhere in the United States, but unfortunately framed prints can not be shipped (due to the glass used in framing). Framed prints MUST be picked up at WildCare in San Rafael.
Critter is an eccentric collection of instrumental music, composed and performed by 3 Bay Area musicians as a dedication to California's diverse and precious wildlife. The songs are genre bending, blending acoustic and electric improvisation from americana, jazz, rock, country, bluegrass, and world influences. Each song was written to capture the essence of a wild California animal, most of which are cared for by WildCare in the Bay Area. 100% of profits from album and artwork sales benefit WildCare!
Click to purchase the Critter album now!
The Critter album cover art was commissioned from renowned artist Kagan McLeod.
Kagan is from Toronto, Canada, and has illustrated professionally since 1999. His illustrations have been seen in publications such as Entertainment Weekly, Fast Company, Glamour, GQ, Men's Health, Newsweek, People, Sports Illustrated and Time. He has been recognized in Communication Arts and American Illustration, as well as Lurzer Archive's 200 Best Illustrator's Worldwide. For the Star Wars fans, he has been a guest illustrator in the Star Wars comics universe (and many other comic series).
Click to shop Critter Collective art and music!
________________________________________________________________________

Wild Things
This beautiful book features a compilation of award-winning photographs from WildCare's Living with Wildlife Photography Contest, and some of our favorite images from the Wildlife Hospital.
Each item in our collection features an actual patient from WildCare's Wildlife Hospital!

You and your gift recipient can both show your support for the compassionate work WildCare does— they can wear their cool new tee, and you'll know that your purchase included a $25 donation to WildCare to help us heal more animals just like these! Even better, a pledged Matching Gift means your online donation will be doubled this December!

The shirts shown above are only three of the available options. Choose from a variety of different animals and designs, in a wide selection of colors.

Please note: Production with standard shipping can take 14 days, so order soon!
Show someone you really care — about them and wildlife! Sponsor a group of orphaned wild babies at WildCare.

No matter their species, all orphaned baby animals arrive at WildCare needing warmth, gentle care, proper nutrition and a feeling of safety and security.

These wild babies will make anyone smile, and with your sponsorship you'll be giving all of WildCare's orphaned baby animals a chance to grow up strong and healthy and to return to their homes!

Each sponsorship includes:

– A personalized membership card
– A WildCare newsletter
– A personalized sponsorship certificate
– An attractive 8×10″ photo and information about the sponsored baby animal

Click to sponsor a group of orphaned babies now!

Please note: Baby Animal Sponsorships must be purchased by December 16 to arrive by Christmas!
Your gift recipient will love their mug featuring the beautiful face of
an actual WildCare patient! These large mugs fit 11 oz of
their favorite beverage and are dishwasher- and microwave-safe.

The mugs shown above are only three of the available options. Choose from a wide variety of different animals and designs.

Each online purchase includes a $25 donation to WildCare. Click to shop now!

Please note: Production with standard shipping can take 14 days, so shop now!
Stay green and share the joy of WildCare with our reusable canvas tote bags. The bag is made by American Apparel in a thick, natural canvas. It's an ideal book bag, or even just something to take along to the farmer's market. With dual handles, the tote is 14 3/8″ x 14″ (36.5 x 35.6 cm) in size.

The totes shown above are only three of the available options. Choose designs featuring several former and current WildCare patients.

Each online purchase includes a $25 donation to WildCare. Click to shop now!

Please note: Production with standard shipping takes 14 days!
___________________________________________________________

Visit WildCare's Amazon Wishlist

From reptariums and Kritter Keepers, to squirrel food and heating pads, WildCare needs lots of specialized supplies to care for our nearly 4,000 wildlife patients every year!

You can help by purchasing items on WildCare's Amazon Wishlist!

Click to see the list of our most-needed items. Questions? Email wildcare@discoverwildcare.org.