The WildCare Gala takes place on September 21, 2019 at the Marin Country Mart in Larkspur!
Join us to celebrate nature and wildlife!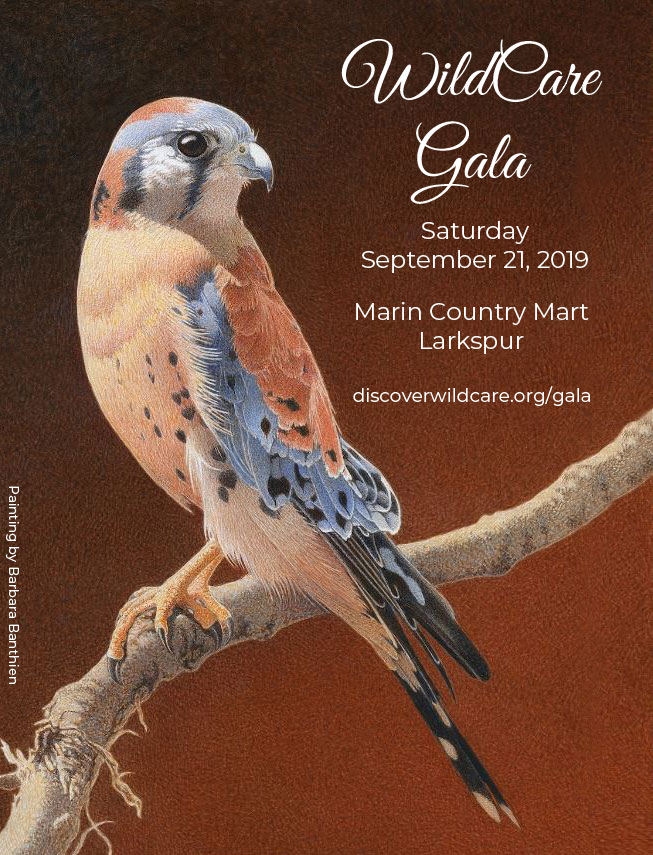 The Gala will feature spectacular wines, a delicious menu, silent and live auctions and exciting encounters with WildCare's live Wildlife Ambassadors!
For more information, please contact Ellyn Weisel at ellyn@discoverwildcare.org or 415-453-1000 x31.
Tickets will be available for purchase on this page soon.
Sponsorship Opportunities
Sponsor WildCare's Gala and benefit from widespread publicity of this glamorous event! Various sponsorship levels are available.
Click to download our Gala 2019 Sponsorship Opportunities (PDF).
Presenting Sponsor $25,000
_________
Peregrine Falcon Sponsor $15,000
_________
Swainson's Hawk Sponsor $10,000
_________
Red-shouldered Hawk Sponsor $5,000
_________
Northern Harrier Sponsor $2,500
_________
American Kestrel Sponsor $1,250
_________
Special Opportunity Talons Sponsorship $3,000
A unique opportunity to be the sponsor for Talons, a festival celebrating birds of prey at Cavallo Point Lodge on Sunday, July 7, 2019.
Receive 10 tickets to attend the cookout, activities and speakers, recognition in all collateral including social media, and signage at the event.
For more information, contact Ellyn Weisel at ellyn@discoverwildcare.org.
_________
Purchase Tickets
Tickets will be available soon.
_________
Auction Items Needed– You Can Help!
You can help WildCare by donating auction items for our Gala!
Are you a season ticket holder to the Warriors, the 49ers or another sports team? What about the San Francisco Opera or San Francisco Ballet?
Do you own a vacation home or timeshare in an exotic locale? How about donating a week's stay?
Do you have a million air miles built up? Donate a round-trip ticket to Europe!
Do you have access to a unique experience? Dinner with a celebrity? Exclusive VIP access to a film set? Something else amazing?
And, of course, there's the diamond tennis bracelet an old boyfriend gave you that you're never going to wear again… how about donating that?
If any of these inspire you, or if you have another auction idea, please contact Marian Eschen at marian@discoverwildcare.org or 415-453-1000 x11.
Or, if you can't help with the event, your financial support is always needed to help the animals in our Wildlife Hospital.
Thank you!