Teen Wildlife Hospital Volunteers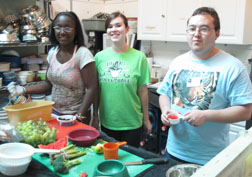 Teen Hospital Volunteers must be at least 15 years old by the Hospital Volunteer Orientation date(s) of February 29 and March 1 and must be accompanied by their own parent or guardian at the orientation.
Additionally, incoming volunteers must attend four classes (a full 16 hours) of hands-on training for the wildlife hospital. Teen Hospital Volunteers ages 15-17 must commit to one Wildlife Hospital Volunteer shift per week. Shifts are between 1.5 and 4 hours long, adjusted during the school year.
The minimum commitment is from February through the end of WildCare's "baby season" (usually ending late November). (Minimum commitment is 106 hours in 10 months). To complete a New Hospital Volunteer Registration Form click here.