WildCare Outreach Volunteers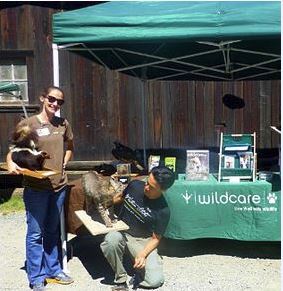 As a nonprofit organization we rely heavily on donations of items and skills, as well as on financial support. Outreach volunteers help WildCare interpret its mission by engaging the public at community events.

If you are looking to volunteer and make a difference to WildCare without the time commitments or specific duties required by our Wildlife Hospital and nature education volunteer programs, there are many other volunteer opportunities that can use skills you already have.
Fairs and Shows
If you enjoy meeting and talking to new people we encourage you to help staff our booths at the Marin Farmers' Market, County Fair, harvest festivals and more. A taxidermied animal will always open a conversation, and you will be provided with information about WildCare's programs, mission and goals to share with the enthusiastic public. Sharing the word about WildCare benefits not only our programs but also the animals throughout the community that will be brought to our facility as a result of someone new finding out about what we do. Commitment can be as needed.