The Hungry Owl Project
The mission of the Hungry Owl Project, a program sponsored by WildCare, is to reduce the need for harmful pesticides & rodenticides by encouraging natural predators, through conservation of habitat, erecting nest boxes when appropriate, through research & education, and by providing a resource of help and information on alternative methods of sustainable pest management.
Visit hungryowl.org for more information on owl boxes and HOP's work to protect and encourage owls and other raptors.
Purchasing an owl box
Before purchasing the nesting boxes for Barn and Screech Owl provided by the Hungry Owl Project, it is best to determine if your location is appropriate. Contact the Hungry Owl Project directly at the number and email below for assistance. Additional information can be found at hungryowl.org.
Contact the Hungry Owl Project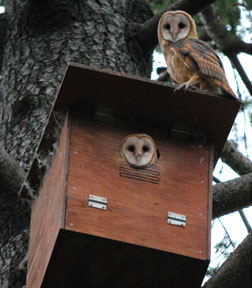 Phone: 415-453-1000 x20
Email: info@hungryowl.org
Please contact the Hungry Owl Project for Owl Box prices: 415-453-1000 x20 or info@hungryowl.org
WildCare members receive a 10% discount on Owl Box purchases. Let the Hungry Owl Project know you are a WildCare member when you order your Owl Box.
Not a member? Join today! Not sure if your membership is up-to-date? Contact Ellyn Weisel, Director of Development at ellyn@discoverwildcare.org or 415-453-1000 x31.